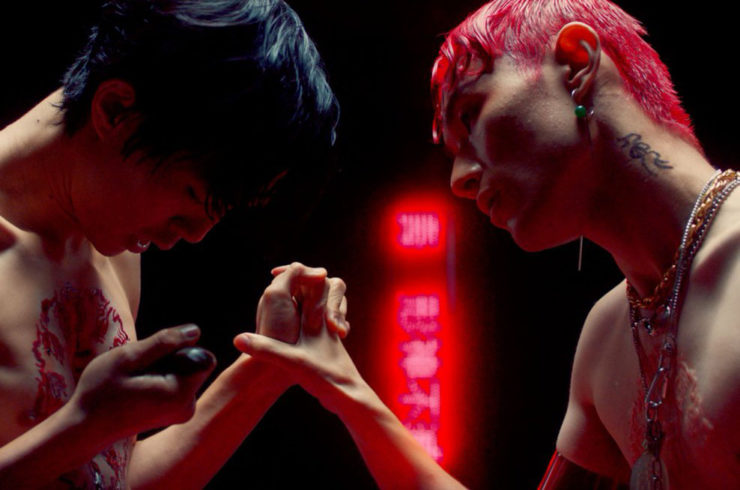 Director Andrew Thomas Huang's captivating short film Kiss of the Rabbit God about an ordinary restaurant worker's extraordinary sexual awakening after a romantic tryst with a seductive Chinese deity has debuted on NOWNESS.
"Interweaving my personal family history in the Chinese restaurant business with the richness of Chinese mythology," says Huang, "Kiss of the Rabbit God is a confession and a love letter to my queer Asian community."
LA-based Huang looked to his own Chinese heritage as inspiration for this Nowness-commissioned project, which is also the filmmaker's first fictional narrative short. The Qing dynasty myth of Tu'er Shen—the Rabbit God—traces the story of a Fujianese soldier who was executed for professing his love to another man. The ruler of the underworld decided that since Tu'er Shen's crime was one of love, the soldier would be ordained as the Rabbit God, the patron deity of gay love.
"Being asked to create a piece centered around queer Asian characters became a dauntingly personal journey for me," says Huang. "I grew up with a deficit of queer Asian visibility on-screen along with the frequent stigmatization and devaluing of Asian male bodies in Western visual culture. I wanted to unpack these issues while also crafting a story that I felt enriched our collective imagination of what queer Asian male love, sex and intimacy could aspire to be."
Kiss of the Rabbit God originally appeared at this year's Tribeca Film Festival and will screen at Outfest Los Angeles in July.
Read more on Nowness and watch the film below.